The Complete Guide To Bitcoin NFTs (2023)
In case you were wondering, Bitcoin NFTs are not new. The Rare Pepes NFT collection was mined on the Bitcoin blockchain long before CryptoPunks and Bored Ape Yacht Club even existed. While those did not get much traction, the new Ordinals NFT collection is certainly generating waves in the blockchain space. Here's all you need to know about the latest Bitcoin NFT.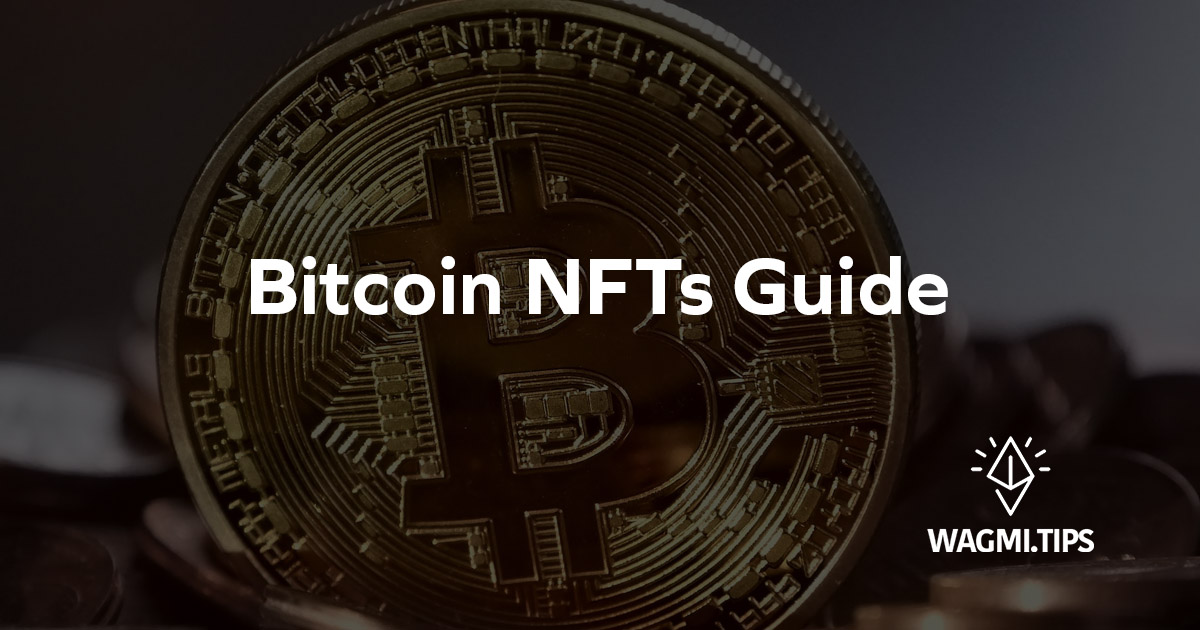 Disclaimer: The contents of this article is for general information purposes only. This does NOT constitute financial advice and we will not be liable for any losses, gains or potential losses as a result from directly or indirectly using this website. Investing in NFTs is risky so always do your own research, do your due diligence and exercise caution.
What Is The Ordinals NFT Collection All About?
The Ordinals NFT is the latest of the few Bitcoin NFTs available today. The rise of the Ordinals has sparked an intense debate within the Bitcoin community itself, and also the larger blockchain community. Basically, the Ordinals protocol allows the transfer of individual satoshis on the Bitcoin network. In other words, it is a system that gives each satoshi a serial number, then tracks them across the network.
In case you were wondering, a satoshi, or sat, is the smallest unit of BTC, which is the cryptocurrency of the Bitcoin blockchain. A satoshi-to-Bitcoin conversion equates to 1 sat to 0.00000001 BTC.
With this protocol in place, we can now send and receive individual satoshis that may or may not include inscribed data (eg: JPEGs). Simply put, we can now put content into a satoshi, registering it to the Bitcoin network. To the surprise of many, the inscription process does not have resource requirements and should not drive up transaction costs. 
Nevertheless, the hype around Bitcoin NFTs have led to higher transaction costs. According to Sean Bonner, almost 8,500 out of 10,000 CryptoPunks have now been minted through Ordinal. This is because users that want to push their transactions through can opt to pay higher fees during peak periods.
Who Is Behind These Bitcoin NFTs?
Casey Rodarmor, the creator of the Ordinals Protocol, is a software engineer at Agora, an open-source software that allows anyone to sell files online using the Lightning Network for payments.
You can watch the exclusive interview with Casey here.
As of now, this is an experimental software and comes with no warranty or guarantees. Nevertheless, Casey and the team assure that it has been extensively tested and any inscriptions will not be affected by future protocol changes.
While it has many features and potential benefits, it is clearly in its infancy. Moving forward, the team will address two key missing elements which are provenance and decentralised markets. Provenance is simply the ability for anyone to determine the author of an inscription. Besides that, there has to be a venue where these inscriptions can be safely traded for them to have some sort of value. Beyond that, development will focus on building a modular, on-chain ecosystem where these inscriptions can thrive.
Ordinals NFT Price - How Much Do They Cost?
According to Dune, the number of Ordinal inscriptions peaked at over 8k daily mints on 7 February 2023, then slightly dropped after that. At the time of writing, there are a total of more than 29k Ordinals in existence and counting. Rightfully so, the total fees spent on these Bitcoin NFTs also peaked on 7 February, amounting to over 2.6 BTC spent.
Where To Buy Ordinals NFTs?
Right now, there are no Bitcoin NFT marketplaces that sell ordinal NFTs. The sales are ordinals are currently mainly on a P2P basis. You can find potential sellers on the Ordinals Discord.
You will need an Ordinals-compatible wallet such as Sparrow Wallet. In order to receive an Ordinal NFT, follow this tutorial to make your Sparrow Wallet Ordinal-ready. If you follow this tutorial you should not send or receive BTC from your Ordinals wallet. It is purely for receiving ordinals. As a word of caution, If you accidentally sent BTC from this wallet, you may end up sending your BTC and ordinals as well.
Transacting via P2P is extremely risky so please exercise caution when making deals with potential sellers.
You can also refer to this guide here.