Magic Eden Launches Marketplace for Bitcoin Ordinals
Bitcoin Ordinals is gaining popularity as a protocol that lets people digitally imprint media and text on the original blockchain. Read on to discover how the market is booming and how Magic Eden is leading the way with its fully audited marketplace for NFTs.
Magic Eden Breaks Ground With BTC NFT Marketplace
Magic Eden, one of the largest cross-chain NFT platforms, has launched its own marketplace for Bitcoin Ordinals, marking one of the first major NFT marketplaces to join the Bitcoin Ordinals fray. Bitcoin Ordinals is a relatively new breakthrough for Bitcoin that enables the on-chain storage of media without the use of smart contracts as on other chains. Ordinals is quickly gaining popularity as a protocol that lets people digitally imprint media and text on the original blockchain, with over 500,000 such "inscriptions" made to date.
Read also: The Complete Guide To Bitcoin NFTS
Magic Eden's marketplace for Ordinals assets is fully audited and leverages the surging interest in Bitcoin NFTs. The new Ordinals protocol was introduced in January 2023 by former Bitcoin core contributor Casey Rodarmor, and since then, the popularity of Bitcoin Ordinals has skyrocketed. Between Feb. 1 and March 1, the total number of Bitcoin Ordinals inscriptions surged from 679 to 240,000. As of March 21, a total of 567,087 have been inscribed.
The marketplace for Bitcoin Ordinals is similar to the one that Magic Eden offers for Polygon, Ethereum, and Solana-based NFTs, and it allows users to buy and sell Bitcoin Ordinal collections. Currently, the marketplace only supports secondary sales of Bitcoin Ordinals, but Magic Eden is also looking into future tools that would allow creators to more easily mint or inscribe Bitcoin NFTs.
Magic Eden is a non-custodial marketplace, meaning that it never takes control of assets being traded. It uses partially signed Bitcoin transactions instead of smart contracts to enable permissionless swaps. At launch, Magic Eden supports the Ordinals-compatible Hiro and Xverse wallets. The marketplace said it is also actively looking into royalty support, as there is currently no royalty standard for Bitcoin.
The launch of Magic Eden's Bitcoin marketplace could be a significant step forward because there are limited tools and products for the blockchain's trading market, which has made the space inaccessible and unsafe for non-professional users. By expanding its reach to a bigger audience, Magic Eden is helping to create a safer and more accessible environment for NFT trading.
In the near future, all Bitcoin inscriptions will be available for trading on Magic Eden. In the long term, Magic Eden plans to continue building out new use cases on new chains, as it believes that NFTs will be the center of culture over many years. As the overall NFT market continues to grow, the subsector is still discovering its product-market fit. The growth of Bitcoin NFTs indicates that there is a market for people who want to own true digital artifacts or collectibles.
How To Buy Bitcoin Ordinals On Magic Eden?
There are many Bitcoin wallets in the ecosystem. If you are looking for an easy-to-use, hassle-free, browser-based wallet, you can consider Xverse wallet.
Once you have installed the wallet on your browser, you should load it up with some Bitcoin (BTC) before you can start buying Bitcoin Ordinals.
Head over to Magic Eden's Ordinal Marketplace to start shopping: https://magiceden.io/ordinals
On Magic Eden, the buying process of ordinals is very similar to ETH. Pick a collection, pick an Ordinal within that collection, and click on "buy now". You have to confirm the transaction in your Wverse wallet and you're done.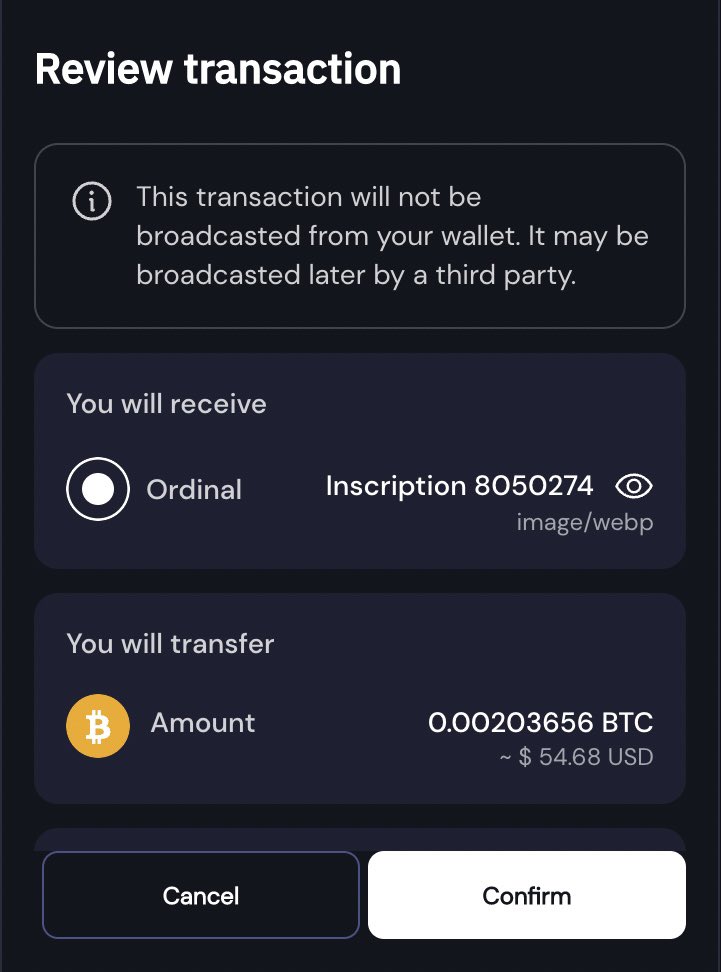 Lastly, it is important to note that Ordinal transactions take very much longer than with ETH NFTs. Don't panic if your Ordinal doesn't appear directly in your wallet. Therefore, with Magic Eden, many items are therefore often in pending status.
We hope you found this quick guide useful!