Best A.I. Plagiarism Checker Tools (2023)
In an era where content creation and academic research are booming, the need for plagiarism detection tools has never been greater. Whether you're an educator, student, writer, or business professional, it's crucial to ensure the originality of your content. A reliable plagiarism checker can help you maintain the integrity of your work, save you from potential copyright infringements, and protect your reputation. In this writeup, we review some of the popular AI plagiarism detection tools, based on factors such as effectiveness, usability, trustworthiness, and cost.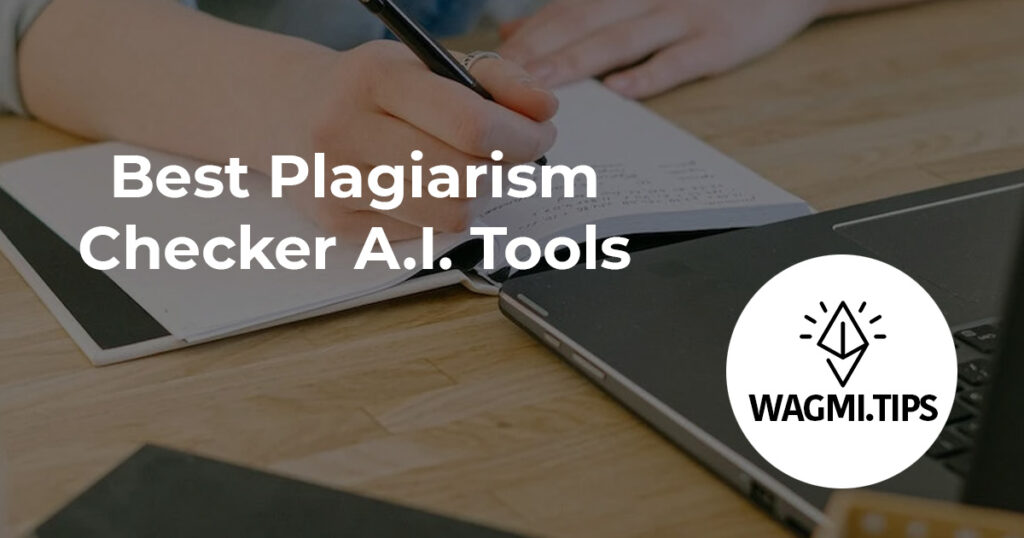 What Is An AI Plagiarism Checker Tool?
An AI Plagiarism Checker Tool is an advanced technology-based solution that uses artificial intelligence to detect instances of plagiarism in a piece of text. By comparing the input content against a vast database of documents and online sources, it identifies duplicated or closely matched segments. These tools can detect verbatim copies, paraphrased content, or even slightly altered text, thereby helping to ensure content integrity and originality.
How Do AI Plagiarism Checker Tools Work?
AI Plagiarism Checker Tools work by employing complex algorithms and machine learning techniques to scan and compare your input text with millions of other documents, articles, and online resources. The tool breaks down the text into small chunks or phrases and searches for identical or similar patterns in its extensive database. When it detects a match, it flags that part of the text as potential plagiarism. Some advanced tools can even detect paraphrasing or rearranged words, providing a comprehensive assessment of originality and potential infringement.
How Accurate Are Plagiarism Checker Tools?
The accuracy of plagiarism checker tools can significantly vary, largely depending on their underlying technology, database extent, and algorithm sophistication. Some tools are highly accurate, capable of identifying direct copying, patchwriting, paraphrasing, and even instances of accidental plagiarism, by cross-referencing against vast databases of published work, including articles, papers, and web content. However, other tools may not be as adept, particularly in detecting more subtle forms of plagiarism, like paraphrasing or use of synonyms. Consequently, while these tools provide a valuable aid in assessing originality and preventing unintentional plagiarism, they are not infallible and should be used in conjunction with sound judgment and ethical writing practices.
List of Top AI Plagiarism Checker Tools
1) DupliChecker
DupliChecker is a genuinely free plagiarism detection tool that imposes no daily limit. However, its 1000-word limit per search might not be convenient for larger documents. The tool's detection ability is mediocre, only detecting a small fraction of plagiarized content in our tests. Using DupliChecker is straightforward, but interpreting the results can be challenging as the source of the plagiarized content isn't always obvious. Despite its limitations, DupliChecker does not store uploaded content in their database or share it with third parties.
2) Plagscan
Plagscan operates on a credit-based system, requiring users to purchase credits for document checks. Although it isn't free, it performs excellently in plagiarism detection, spotting a high percentage of plagiarized content. The tool is user-friendly, providing clear and precise color-coded reports that make identifying plagiarized content easier. Plagscan assures users that it does not store or share uploaded documents with third parties, making it a trustworthy tool.
3) Plagiarism Checker X
Plagiarism Checker X offers a free scan, after which users must purchase a lifetime license to continue using the tool. The tool demonstrated a high detection rate of plagiarized content in our tests and provides a user-friendly interface for easy navigation. The generated reports are simple to understand, with color-coded highlighting to identify the sources of plagiarized content. Plagiarism Checker X is a reliable tool, confirming it neither stores nor shares your documents with third parties.
Check out Plagiarism Checker X
4) Small SEO Tools Plagiarism Checker
Small SEO Tools Plagiarism Checker is a free-to-use tool. However, the tool's 1000-word limit per search might be restrictive for larger documents. In our tests, the tool was moderately effective at detecting plagiarism, only able to find partial matches and not the full ones. Its user-friendly interface and simple report layout make it easy to use. However, its detection capabilities might not suffice for in-depth plagiarism checking. The tool assures users that it doesn't store their content, making it a secure option.
Check out Small SEO Tools Plagiarism Checker
5) Copyleaks
Copyleaks, which offers a limited free service as well as premium options, is a powerful plagiarism detection tool that performs admirably, identifying a high percentage of plagiarized content. The tool's report is clear and straightforward, effectively marking the plagiarized text in different colors to indicate their respective sources. Its user-friendly layout and professional design make the tool accessible and easy to navigate. Although the tool isn't completely free, it guarantees the privacy and security of user-uploaded documents, ensuring that no content is stored or shared.
6) Unicheck
Unicheck is a paid plagiarism detection service that offers a range of options tailored to specific user needs, from students and educators to businesses. Despite not being a free tool, Unicheck excels in detecting plagiarism, consistently identifying high percentages of plagiarized content. It produces a simple, easy-to-understand report that effectively highlights plagiarized content, directly associating them with their respective sources. While the cost may be a drawback for some, Unicheck ensures that user content is secure and not shared with third parties.
7) Plagiarisma
Lastly, we have Plagiarisma, a free-to-use plagiarism checker with an option for a paid upgrade. The tool shows mediocre detection abilities, only able to identify a limited amount of plagiarized content. While its user interface is less sleek than some competitors, it's easy to use. Plagiarisma offers a no-frills report that, while basic, is generally easy to understand. The tool assures users that their documents are not stored or shared, providing a level of trustworthiness for those concerned about privacy.
In conclusion, a solid plagiarism detection tool can be an invaluable resource for maintaining the originality and integrity of your content. From free tools to premium services, it's essential to choose a plagiarism checker that aligns with your specific needs and budget. We hope this review has provided you with insights that can help you make an informed decision.