Top 7 Women-Led NFT Projects To Follow
Quite a number of women are carving out a name for themselves in the male-dominated NFT world. In this article, we cast a spotlight on some notable women-led projects. Take a look at our list of the Top 7 Women-Led NFT Projects To Follow!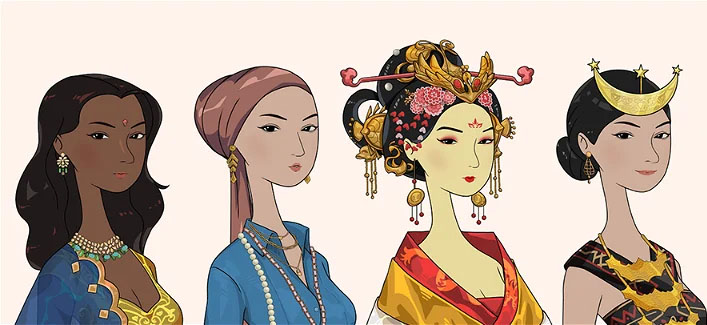 8SIAN was founded by Nicole Yap who had the vision to represent women and Asia in the NFT space. Its core vision is to create something authentic about the combined cultures in Asia. Today, 8SIAN is one of the most-hyped communities among Asian NFTs and recently had an event at the Metaverse Fashion Week. 8SIAN has fostered a strong community of Asian women in NFT and has great plans for the future.
Based on 8SIAN's vision, it's clear that they have placed its community front and centre of the project. Transparency is the core tenet of the project. 8SIAN has also decided to give its owners influence over substantial decisions. In the future, 8SIAN plans to give back to the community via blockchain scholarship programs and it plans to build a space in the Metaverse for its owners soon. We're excited to see where this project goes! Some notable collectors of 8SIAN NFTs include DJ Steve Aoki and Matt Higgins from Shark Tank.
Followers: 37k
Boss Beauties is a collection of 10,000 NFTs featuring portraits of empowered women that Gen Z change-makers want to see and become in the world. It is a meaningful and impressive project which sold out in an hour, becoming the first collection to be featured on the New York Stock Exchange.
Boss Beauties gives back to its community – they provide mentorship programs, internships and scholarships to women in the community. In addition to that, Primary and Secondary proceeds from sales go back to supporting the collection and token holders, in line with their mission to support young women.
Followers: 69k
Flower Girls is a project that was started by artist Varvara Alay from Russia and first minted in December 2021. This project is a collection of 10,000 hand-drawn illustrations of women wearing floral headdresses. The project also donated 20% of its proceeds to several NGOs and children's charities. In the first four months since launch, they have donated over 188.4 ETH. 
Charity is Flower Girls' main focus, however, their roadmap also promises a number of other rewards and perks for its community. These include media and merchandise inspired by the Flower Girls collection to be produced for the community. Additionally, they also host giveaways, art contests, and art classes for young children!
Followers: 24k
Red Hong Yi is a notable name in the art scene and one of the early adopters of NFTs. The Malaysian artist has a distinctive style where she uses everyday materials such as teabags, eggshells, matchsticks and other similar objects to make art. Her paintings and installations highlight the stories and traditions of the artist's Chinese roots.
Her NFT projects include Memebank, which was an exhibition of her design of banknotes and a commentary about inflation. Her piece, "Doge To The Moon", sold for 36.3 ETH back in 2021. Currently, she runs Studio Red Hong Yi and leads a team of five to create artwork.
Followers: 5k
The Malaysian Visithra is a multidisciplinary artist who paints expressionism and pop surrealism paintings. There's a strong infusion of Eastern symbolism in Visithra's art style and her works are influenced by the Indian artist, Jamini Roy. Her social message art also touches on a wide range of subjects, including racism, feminism, and social issues. 
Visithra has gained quite a following after her works attracted the attention of Hollywood celebrities in the likes of Reese Witherspoon, Snoop Dogg, and Jimmy Fallon. Her art has been exhibited in LA, New York, India, Japan, South Korea, Indonesia, Philippines and more. As of April 2022, her art has collectively sold for a total of 103 ETH.
Followers: 4k
Women Rise was founded by Pakistani-born artist, author, and neuroscience student Maliha Abidi. Maliha has been an advocate for social justice including women's rights, gender equality and girls' education for the past 9 years through her art, writing and activism. 
The collection of 10,000 generated NFTs was first minted in November 2021, and the project depicts women from around the world, featuring women of a multitude of skin colours and in diverse careers such as scientists, activists, artists, coders and more. The project's roadmap shows its commitment to women's empowerment as perks include activist clubs and donations to women's charities.
Followers: 53k
World of Women is a collection of 10,000 PFPs that feature hand-drawn portraits of influential women by the artist Yam Karkai who hails from the Middle East. The project, which was launched in July 2021 by four friends sharing the same vision, has attracted the interest of celebrities and famously collaborated with Christina Aguilera, Mariah Carey, and Madonna to create PFPs. Celebrities such as Reese Witherspoon, Steve Aoki, Eva Longoria and Shonda Rhimes have all aped into WoW.
World of Women's vision is to balance representation in the NFT world, especially of women of various ethnicities in order to promote female empowerment and diversity. WoW champions transparency and women's voices by having their community vote on important decisions. 
Followers: 199k
Thanks to this initial influx of women-led projects, we are seeing more and more talented women NFT artists and founders making waves in the scene. These trailblazers are setting a new standard for amazing NFT projects and we are excited to follow their upcoming projects and project developments.